Shoulder support with adjustment AM-SOB
Products which belong to Activ Sport Line group are made of ActivPren. This structural fabric is made of neoprene foam of different thickness with outside layer of polyamide. The neoprene is additionally perforated to assure air flow and maintenance of correct temperature. ActivPren is soft and elastic, easily fits the limb. It contains no thick fibres which could press patient skin and cause an injury in the place of more intensive compression. ActivPren contains microfiber diaphragm. The diaphragm derives sweat from patient's skin, and than it evaporates through the perforation in the neoprene layer. Such design assures that only minimum of sweat is left on patient's skin, allowing for usage of our products in extreme conditions e.g. during sport activities.
Made of soft and elastic ActivPren fabric. Possibility of wide range of adjustments, both: left and right side use. Stabilizes shoulder joint and shoulder blade.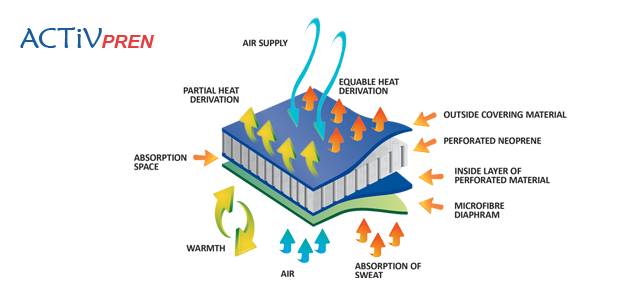 Available size:

Properties:
Stabilization of shoulder joint, acromioclavicular joint and shoulder-blade. Detainment of warmth, preventing body overcooling and overheating, Comfort of use - the support contains no thick fibres which can cause abrasions if pressed firmly on patient's skin, Simplicity of use- simple way to put the support on and take it off by the patient. The design of this support guarantees maximum comfort of use, no movement limitation for both women and men.
Applying:
after injury of the shoulder joint, acromioclavicular joint and elbow joint after treatment
severe, chronic pain syndrome of arm and shoulder, post-injury changes, degeneration and pathology.
Contraindications:
Please contact the leading doctor in case of increasing pain during the use of the support
In case of skin changes in places where the support touches the skin (abrasions, injuries, skin eczema) it is possible to use the support after a dressing is applied.
In case of: children, patients with amnesia, or mentally ill patients it is necessary to regularly control if the support is used precisely according to doctor's advice.
Setting up:
Information for patients:
Only properly selected, fitted and used support fulfils its function – instruction regarding use of the support is given by the leading doctor or therapist.
The support should be worn on top of a cotton t-shirt to prevent abrasions and rashes. In case of patients with paraesthesia it is necessary to regularly check the condition of skin when air temperature is high. Such check up should be performed especially in places where the support touches the skin and in the armpit area.
Long term use of the support may lead to limitation of active and passive movement of shoulder joint. If there is no contraindications, it is advisable to perform some passive exercises of shoulder joint a few times a day. Such exercise is individually selected for the patient by the therapist following doctor's order.
Skin, in place where the support is applied, should be clean (no use of cream, poultice, ointments before the application of the support)
Wrong maintenance of the product- infrequent washing, insufficient rinsing from washing powder may lead to skin changes connected with excessive sweating under the support.
Maintanence:
Hand wash in 30° warm water with soap.
RINSE THORUOGHLY
Do not iron
Do not use chlorine
Dry far from the source of heat
Related products