Universal Stairway Climber with Wheels LG2030
Universal Stairway Climber with Wheels LG2030
LG2030 is the universal solution for all types of stairs, both straight and spiral. The universal stairway climber guarantees a comfortable ascent and descent of the stairs thanks to its weight balancing system. LG2030 develops its innovative system in sustaining the anchored aid in three support points, always keeping the user in a comfortable position. The threedimensional anchoring system can be hooked to all types of wheelchairs, strollers and multi-purpose wheelchairs.
Complete support: The ramps support the wheelchair stably and securely as it rests on the four wheels. The ramps are installed on a lifting frame which enables lifting and reversing the wheelchair, balancing its weight to facilitate the ascent and descent of the stairway climber.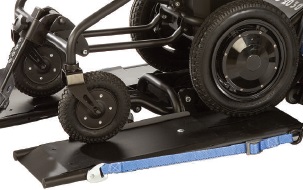 Front overturning support: LG2030 is equipped with a front support which is activated automatically while going up and down the stairs ensuring additional safety even in the event of an incorrect manoeuvre by the attendant.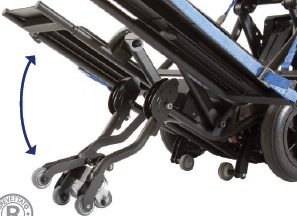 Rear overturning support: The rear overturning system allow you to effortlessly and safely find the right position to go up and down the stairs. This system means that the weight is not supported by the arms of the attendant but is instead discharged on the stairs.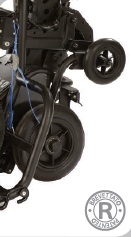 Ramps support adjustable in depth.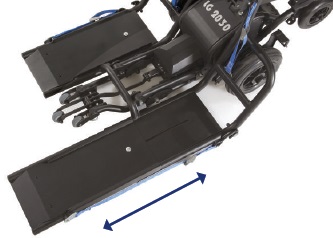 Safety lights: The LED light ensure you adequate lighting of the stairs even in the event of accidental switch-off of the artificial light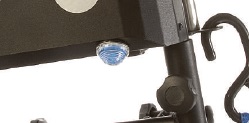 Headrest: Wraparound adjustable in height, laterally and depth.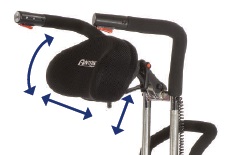 Handlebar: The handlebar is ergonomic and height-adjustable (23 cm) for comfortable posture. The controls are at the top of the handle bar: there are "dead man" operating buttons, one to the right and one to the left, to prevent operating mistakes.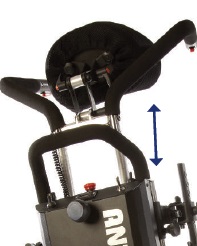 Control panel:
Potentiometer for speed adjustment.
Mode dial to "step by step" or sequential rise and fall.
Battery charge level indicator.
Ignition key.
Emergency button.
Handle for increased comfort and support handling assistant,
Balance Selector for the ascent and descent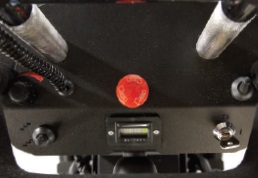 Wheelchair fittings (3D): Anchoring system that moves in the three size, extremely adaptable and adjustable which allows a fast hooking and unhooking and sure of many types of aids.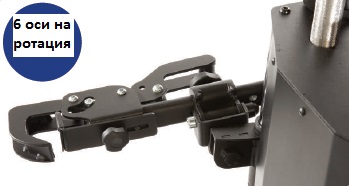 Universal wheelchair fitting: Anchoring system extremely versatile. With lengthadjustable straps to ensure the possibility of connecting all the aids.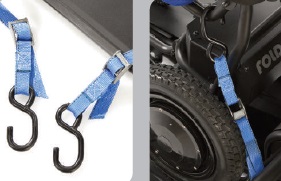 Technical details:
| | |
| --- | --- |
| Clearance on L-shaped stair landing | 130 х 110 cm |
| Clearance on U-shaped stair landing | 130 х 220 cm |
| Minimum stair widht | 75 cm |
| Maximum step height | 21 cm |
| Total weight | 78 kg |
| Machine body weight | 58 kg |
| Weight of handle bar | 20 kg |
| Max capacity | 180 kg |
| Maximum speed | 30 stairs/min |
| Average time of the battery charge (person weighting 80kg) | 2200 stairs |
| Motor power | 500 W |
| Maximum dimension overall | 114 х 72 х 160 cm |