JORDI™ is a school-therapeutic chair, which works great for for therapy and for fun, as well as other daily activities such as learning or eating meals.
At home, kindergarten, school or in a group of peers, JORDI™ will be an irreplaceable help tool in the rehabilitation process, both in the aspects of movement and social integration. Durable design and regulation of the tilt-in-space function are the main advantages of the seat, which is especially appreciated by therapists. Furthermore, the seat has height, width and depth adjustment. Already in the standard it becomes the ideal tool in the rehabilitation process and a long list of accessories will allow us to fit the product to individual needs.Another advantage is the medical upholstery, easy to clean and disinfect. For more demanding customers we prepared a medical upholstery called Extreme-Med, which has certified non- flammability (CRIB7), is antibacterial and antifungal. Available in 3 pretty, vibrant colors. Made of safe materials for the user. Available in 4 sizes.
Special Features
The device ensures adequate stability and safety of Patient.
We use only human and environment friendly materials.
The device is able to change hip angle.
We offer 24 months warranty on the product. We also provide after sales service.
Intuitive way of adjustment and easy assembly.
Our harnesses and pelvic belts are equipped with Hold and pull system that provides fast and comfortable support your child in the device.
Seat depth adjustment and backrest tilt angle available in standard equipment.
Tilt is a space function is available thanks to the legs height adjustment.
Medical upholstery used in this product is vapor permeable, waterproof and easy to disinfect.
Tilt-in-space function: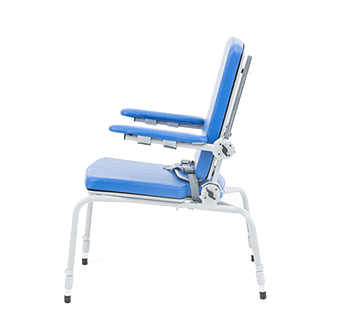 It is recommended for children in the following cases:
Cerebral palsy – various types and forms.
Brain and spinal cord injuries with lower limbs paralysis and weakness, balance and motor coordination disorders with different etiology.
Demyelinating disease (e.g. multiple sclerosis – SM).
Meningocele.
Muscles diseases with weakness and paralysis (dystrophy, myasthenia gravis, myositis).
Genetic disorders.
Degeneration and neurological diseases.
Other condition connected with muscles weakness, paralysis and musculoskeletal disorders.
After head and spinal cord injuries and spine trauma with paralysis and paresis.
Standard Features
Backrest:Adjustable tilt angle
Medical Upholstery
Vapor permeable and waterproof material
Easy to disinfect which is important in the case of repeated use by different patients
Very safe
Aesthetic finish
Adjustable height and tilt angle
Perfect support for hands
Possibility to mount a tray
Lightweight and simple construction
Adjustable height
Seat: Adjustable depth
Pelvic belt
Support trunk function
Made of easy to wash fabric
Wide range of adjustment
Easy and quick adjustment of the belt to patient's body with holders
Solid elements, certified with military certificate, manufactured by Nexus company
Tilt-in-space: The device is able to change hip angle
Available sizes: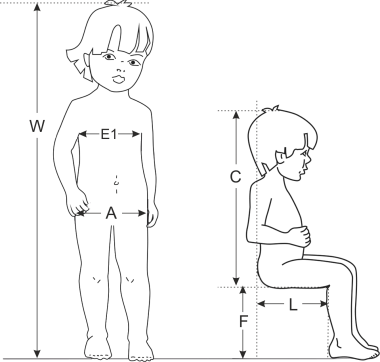 Child measurements:
| | | | | |
| --- | --- | --- | --- | --- |
| Symbol | Size 1 | Size 2 | Size 3 | Size4 |
| W | 90 - 110 cm | 100 - 120 cm | 110 - 150 cm | 150 - 170 cm |
| E1 | 25 cm | 30 cm | 37 cm | 45 cm |
| A | 25 cm | 30 cm | 37 cm | 45 cm |
| C | 44 - 60 cm | 55 - 66 cm | 58 - 74 cm | 67 - 83 cm |
| F | 26 - 30 cm | 31 - 39 cm | 37 - 49 cm | 42 - 56 cm |
| L | 23 - 29 cm | 26 - 34 cm | 30 - 40 cm | 35 - 45 cm |
Product dimensions: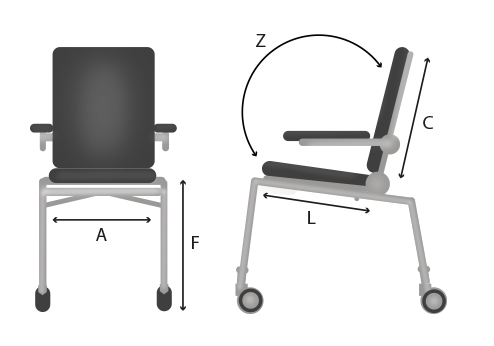 Symbol
Measurement
Size 1
Size 2
Size 3
Size 4
A
Seat width in cm
25
30
37
45
L
Seat depth in cm
23 - 29
26 - 34
30 - 40
35 - 45
C
Backrest height in cm
33
39
46
55
F
Floor to seat distance in cm
26 - 30
31 - 39
37 - 49
42 - 56
Z
Backrest angle (degr)
90 - 135
90 - 135
90 - 135
90 - 135
Maximum user weight in kg
50
65
80
120
Chair's weight in kg
6.5
8
10
12