The SOMNOtouch NIBP represents the latest generation of ambulatory continuous blood pressure measurement at SOMNOmedics. The blood pressure is determined with the Pulse Transit Time continuously and non reactive, using an ECG and the SpO2 finger clip. The method is validated in serveral clinical studies.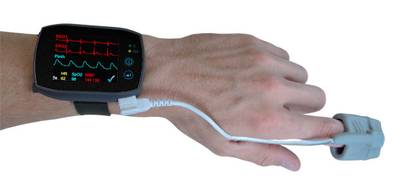 All in One
Additionally to the continuous blood pressure measurement, the SOMNOtouch serves as a multi-channel recorder:
Long Term Blood Pressure + Holter ECG + Oximetry + Actigraphy + PWV
1 recording – 5 simultaneous measurements in one device.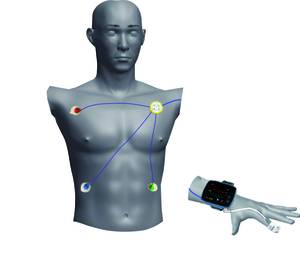 Continuous Blood Pressure Measurement
A continuous blood pressure measurement without inflation of a cuff profits from a wide range of benefits when recording during sleep at night: The continuous recording of the blood pressure shows the minima and maxima, no inflation of a cuff disturbs the sleep and affects the blood pressure. Thanks to a synchronous recording of movement, sleep and wake can be determined and blood pressure values can be assigned.
Online Signal Check
The built in Bluetooth module transfers the data in real time. You can do a signal check both, on the high resolution touch display of the SOMNOtouch as well as having a screenshot of the recording data sent to your tablet PC or mobile phone via e-mail. Transfer times and -periods can be programmed individually.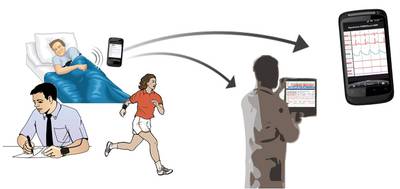 Data Analysis and Report
Blood Pressure Report
Continuous 24 hour blood pressure profile
Detection of Dipper / Non-Dipper
Detection of NBP (Nocturnal Blood Pressure Fluctuations) as an indicator for cardic stress

Determination of the superposition effect of the Blood

Pressure
Clear sleep/wake allocation by actigraphy
ECG Report
Stress report based on HRV
Arrhythmia detection
Oximetry Report
Display of the blood Oxygen saturation and the correlation between nocturnal SpO2 and nocturnal blood pressure
Detection of respiratory based changes of the blood pressure (optional)