Very comfortable and fashionable shoes, perfectly suited for spring playtimes outside, and autumn walks. They provide comfortable use and allow proper development of the feet. Ideal for orthopedic alterations.
Size: from 20 to 42
Material: Nubuck leather, grain leather.
Aditional insulation is available.
Coour: brown/pink
How to choose the size:
Standing on a sheet of paper you draw each contour of the circumference of the foot. To draw the foot properly you should hold a pencil at a right angle to the foot.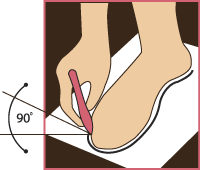 Measure the distance between the outermost points in the figure (A and B). You shouldn't add more millimeters than we give in the next table.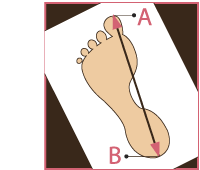 | | |
| --- | --- |
| Size | Distance A to B |
| 22 | 15 cm |
| 23 | 15.5 cm |
| 24 | 16.3 cm |
| 25 | 16.9 cm |
| 26 | 17.5 cm |
| 27 | 18.2 cm |
| 28 | 19 cm |
| 29 | 19.6 cm |
| 30 | 20.2 cm |
| 31 | 21 cm |
| 32 | 21.7 cm |
| 33 | 22.2 cm |