Open brace for lower limb with splints AM-OSK-OL/1R
Open orthosis has been made of perforated neoprene foam, which is coated with lining fabric. It has four independent units of supportive girdles made of VELCRO stickers
Open orthosis has been made of perforated neoprene foam, which is coated with lining fabric. It has four independent units of supportive girdles made of VELCRO stickers.
The device is provided with uniaxial side splints made form high quality plastic armed with carbon fibre. The system of splints in orthosis and their specific construction allow to adhere perfectly to the limb and also enable to stabilize the joint excellently. Splints are provided with special knobs which regulate the bend and unbend angle in steps of 15°. Such precise regulation of the device facilitates the process of rehabilitation of damaged genual joint. It is also possible to block the regulator on 180° position when the limb needs to be stabilized in straight and blocked position. Furthermore - weight of orthosis OSK-OL/1-R/U equipped with carbon fibre splints is lower than the weight of traditional orthosis therefore the device is easier to use.
Available size: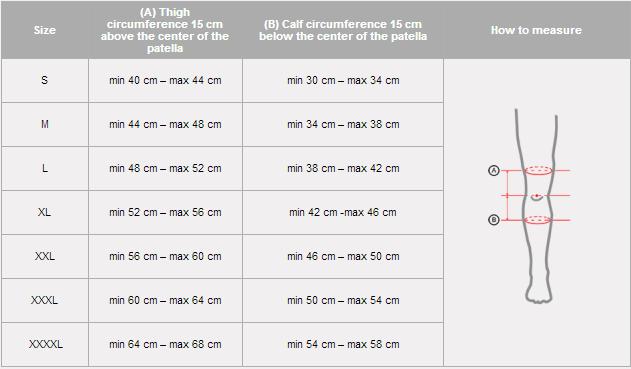 Properties:
Perfect draining off of moisture from the orthosis - thanks to use of internal perforation which permits on breathing skin freely.
Partial carrying away of heat from the patient's skin - thanks to use of internal perforation which permits on moving away the excess of heat.
Opportunity of use the orthosis by elderly persons and persons who are overweight - thanks to open construction of orthosis at the front side
Comfort of use - thanks to its open construction you can easily put on and take off the orthosis.
Low weight of article - the traditional metal splints were replaced by carbon firbe splints, thanks to this it was possible to reduce the weight of apparatus several times.
Joint stabilization increased – due to elongation of orthopaedic splints and instalation four groups of velcro tapes
Purpose of use:
dislocation of genual joint,
twist and sprain of genual joint,
side instability of genual joint,
damages of knee ligaments LCL, MCL and ACL,
reconstruction of the knee ligaments,
other operations (orthopedic).
Contraindications:
fresh wounds
attritions of skin
skin eczemas
skin allergies
varicosity
ulceration of shin
Setting up:

1R splints - single axis orthopedic splints used in all knee joint and upper limb braces, where apart from adjustment of the flection and extension angle, high lateral stabilization of the joint is not required, but important if low weight of the brace. Due to the low weight the splints are successfully used in all braced for children. They are manufactured with high quality plastic with carbon fibre, making the splints light and indifferent to the influence of sweat and salt, properly firm therefore assuring correct functioning of the device. Adjustment of the flection and extension angle is performed with special Allen screw, by every 15 degrees – each brace is equipped with a key necessary for adjustment. Standard length of the braces is: 250, 280, 380, 470 and 530 mm. The splint and its design are patented in European Union by our company.

Information for patients:
Orthosis as medical article should not be used during sport activities or exercises.
It should be applied in compliance with indications and under doctor's supervision.
For the first time should be established by doctor or by trained medical staff.
Orthosis should not be used if any ointment or warming up gel had been applied earlier.
It is recommended to use the article together with stocking or antivaricose knee-length socks of minimum compression.
Inappropriate use of article or choosing wrong size can bring about a defect of venous and arterial circulation, trauma of protected joint, skin illnesses etc.
Lack of everyday personal hygiene or inappropriate preservation and washing the article can cause skin attritions or can bring about allergic reactions connected with intensive perspiration and development of bacterial flora.
Maintanence:
Wash by hands in warm water with soap in temperature of 30°
Do not mould.
Do not chlorinate.
Dry away from sources of warmth.
CAUTION! Before washing do not disassemble side splint!