With this USB Spirometer you can reliably measure and record the ventulation and the movement of air into and out of the lungs. The modern processor and the precise airflow sensors alow for very accurate assessement of the lung's functions. The spirometer is very durable and easy to use from trained medical professionals.
This spirometer has the capability to be connected with a lung assessement system - ASCII or HI7 and it can also be modified if needed:
The GLI 2012, Z-Socre and BDT are standard,
Available PDF and HL7 software as option.
For the software to connect to your operating sysytem (Microsoft computer system), all that is needed is an USB cable. The software can be used by multiple users who can store data separately.
The method for data collection gives the clinician an opportunity to assess patients with very low vital capacity. The test is executed automatically and gives advice for the correct breathing manouvers during use.
The system stores and shows data like gas concentrations, mouth capacity and pressure in real time.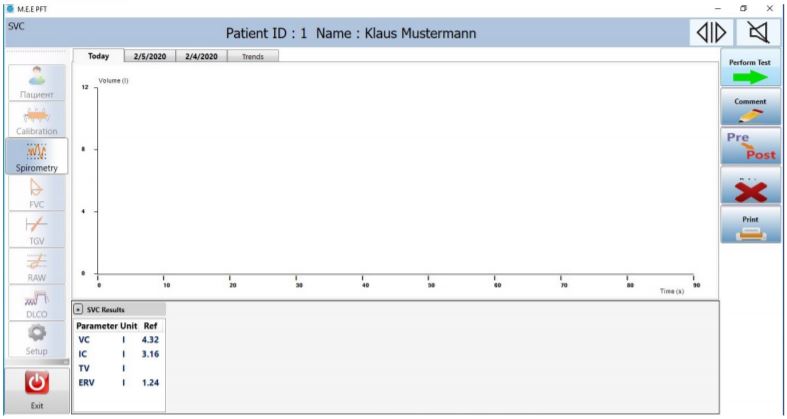 What functions are available with the Spirometer software?
GLI 2012;
Capability of calculating standard values;
My SQL database compatiability;
Software programing with the latest development;
Complies with the ATS (American Thoracic Society) and ERS (European Respiratory Society) guidelines;
Constant software updates;
Fully automated database backup;
Auto Zeroing which means no need for the patient to move from the device
Motivational graphics for children.
Options available for the Spirometer
Rhinomanometry

P01 / Pmax - Respiratory drive test
Rocc - measuring the resistance of the respiratory tract
GDT Interface
HL7 Interface
Technical characteristics:
Sensor: Pneumotachograph (variable aperture)
Flow range from 0,02l/sec - 20l/sec +/- max 3%
Resistance: <0.055 kPa/l *sec at 15 l/sec