Advantages of the Cough Assistant RespiClear:
- User-friendly operation and interface.
- Fast switching times.
- Patented valve technology.
- Adjustable oszillation levels
- Constant flow limitation.
- Space-saving slim design.
- Can also be used when lying down.
- Comfortable setting on the 7 inch touchscreen.
- Easy cleanable surfaces.
- Up to 5 presets can be saved.
- Control via foot pedal optionally available.
- Carrying bag designed for mobile use.
- Very low noise .
- Optimum protection of the device and the breaching air through a cartridge filter class M5
Characteristics:
Clear display with a structured menu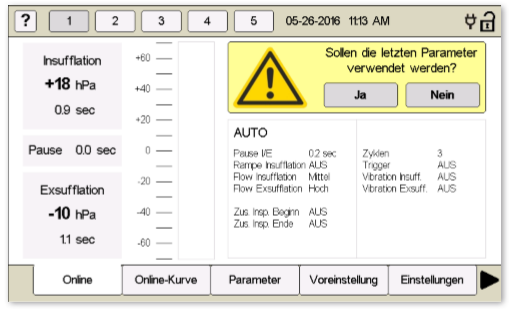 Adjustable parameters:
- Manual mode
- AUTO / AUTO with trigger
- PC AirStacking
- NIV
Up to 5 previously configured presets
- Options for copying
- You can transfer your data from one program to another.
- Deactivating the options.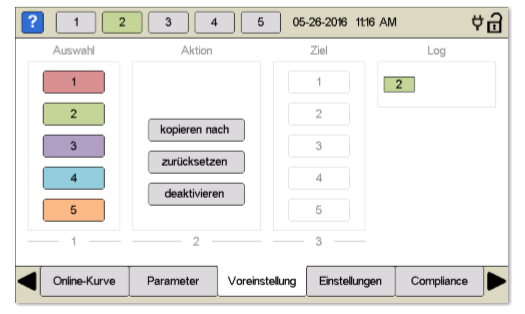 Various therapy options and additional functions:
- Vibrations from 4 to 15 Hz, during exhaling or / and / inhaling.
- Automatic maximum amplitude generation.
- Flow restriction from 100% to 80% or 60%.
- Interruption of the I / E for sensitive patients, even those with Dysphagia.
- Gentle increase of ramp pressure for better patient compliance.
Review of patient information and Peak Cough Flow report.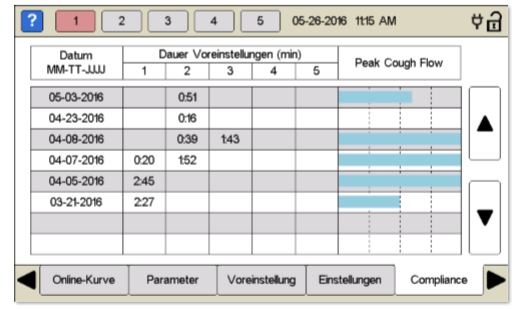 NIV Mode
- Limited ventilation time (max. 30 min.)
- Suitable for preparing extremely exausted patients before and / or after ventilation, for better therapy effect and quicker compliance with the machine.
Techical data
Product class acording to EC directive 93/42/EEC

IIa

Electrical safety

- Protection class

- Protection level

- Protection rating

- Complies with standard

II (totally insulated

B

IP 21

DIN EN 60601-1:2013

Electrical connection

- Alternating current

- Direct current

100 - 240 V AC automatic, 50 - 60 Hz

Tolerance -15% to +10%

24 V DC / 5 A

Tolerance in each case -15% to +25%

Power

- Maximum power

215 VA / 135 W

Ambient conditions

-Operation

Temperature

Air humidity

Air pressure

+5°C to +40°C

15% RH to 95% RH

500 hPa to 1200 hPa

Operation
Continous operation
Operating range

Manual mode, AUTO, AirStacking: +70hPa to -70hPa

NIV: 4hPa to 30hPa

The maximum pressure of <60hPa will not be exceeded, even in the event of the first fault listed.

Sound pressure level alarm messages
min. 70dB(A)
System resistance with air flow of 60 l/min at patient connection opening
RespiClear with hose system and bacterial filter 0,30 kPa s / l
Minimum stable pressure limit (PLSmin)
> 0 hPa (minimum pressure in event of fault)
Maximum stable pressure limit (PLSmax)
< 60 hPa (maximum pressure in event of fault)
Dimensions (WxHxD)
35 x 31 x 15 mm
Weight
4,9 kg

Air filtering

-filter life

12 months